Uniform Policy
School Uniform
Uniform can be ordered from school. It usually takes two weeks from the date of the order to delivery. These items of uniform may be ordered form the school office.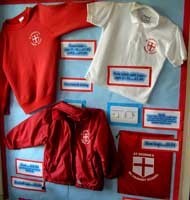 Sweatshirts may be purchased at a cost of £10.00 for ages 3 - 13
Llarger sizes (S,M,L) are available at a cost of £12.00
Polo shirts with logo are £10.00 for ages 3 - 13.
Reversible Coats £14.00
Shoe bags £2.25
The girls may wear red checked cotton dresses in the summer term.
We like our children to have a change of shoes for indoor use.
For P.E.
Colour of t-shirt to be the same as the pupil's house colour, black shorts, P.E. shoes with gym bag clearly labelled with the child's name. For outside use in the colder months, a tracksuit may be worn.
No child will be permitted to wear any items of jewellery during P.E. lessons, as these can be a danger to themselves and to other children. All items of jewellery must be removed prior to the P.E. lesson.

ALL THE CHILDREN'S CLOTHING SHOULD BE LABELLED WITH THE CHILD'S NAME.