Uniform Policy
School Uniform
Uniform can be purchased from the school office.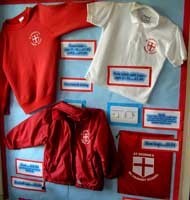 Sweatshirts may be purchased at a cost of £10.00 for ages 3 - 13
Polo shirts with logo are £5.00 for ages 3 - 13.
Reversible Coats £15.00
Book bags £5.00
Summer uniform for females - red checked cotton dresses may be worn in the summer term.
For P.E.
Colour of t-shirt to be the same as the pupil's house colour, black shorts, P.E. shoes with gym bag clearly labelled with the child's name. For outside use in the colder months, a tracksuit may be worn.
No child will be permitted to wear any items of jewellery during P.E. lessons, as these can be a danger to themselves and to other children. All items of jewellery must be removed prior to the P.E. lesson.

ALL THE CHILDREN'S CLOTHING SHOULD BE LABELLED WITH THE CHILD'S NAME.